Concrete Floor Scrubbing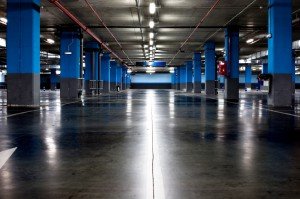 Klean-Sweep's concrete floor scrubbing division utilizes the latest Tenant T20 ride-on scrubbing machines to clean commercial parking structures and commercial/industrial warehouse facilities. Our experienced scrubbing crews pride themselves on top quality work and devising innovative solutions to large, complex cleaning assignments. All sizes of parking structures (from 50 to 3,000+ spaces) and warehouse floors (10,000 to 500,000 plus square feet) can be accommodated. The benefits of scrubbing over steam cleaning are as follows:
Ride-on scrubbing machines are very effective in cleaning large expanses of concrete in a short period of time.
The machines dual cylindrical brushes can be readily changed to accommodate differing concrete surfaces (smooth versus rough and sealed versus non-sealed).
The machine vacuums up all solution, debris and water leaving the floors dry and traffic ready.